Residential
Keswick Pointe l Wyndam Hills l Kettle Ridge l Eaglesmere

Several of Spread Eagle Development's custom home building projects are the cornerstone of such fine neighborhoods as Wyndham Hills, Kettle Ridge, Eaglesmere Townhomes, Birnam Wood, Fox Chase, Creek at Glenbrook … and others. Its latest project, Keswick Pointe, a Planned Residential Development (PRD) is a distinction held by very few developed neighborhoods in the area. The very strict local, state and federal developmental and environmental guidelines met in the planning process, ensure a neighborhood second to none.

View Portfolio

Keswick Pointe
Homesites available


Keswick Pointe is a Planned Residential Development centrally located in the Pocono Mountains.The neighborhood offers forested privacy but is within minutes of schools, shopping, golf courses, ski areas and other recreational and cultural activities.

Visit our Website
Visit us on Facebook
Visit us on YouTube
Follow us on Twitter
Learn about Poconos Mountain Living


Wyndam Hills
Neighborhood Completed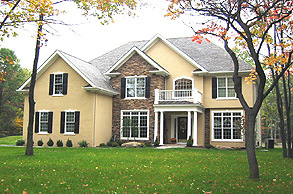 Centrally located in the heart of the Pocono Mountains, in Paradise Valley, Wyndam Hills boasts a location second to none. For those desiring the finest in land planning, community environment, and the protection of your investment in the future, Wyndam Hills features one acre plus homesites for custom homes.
Kettle Ridge
Neighborhood Completed
Kettle Ridge poised on the terracing hillside of Hamilton Twp., Monroe County, PA and just minutes from I-80 and PA-33. These remarkable luxury single family homes enjoy panoramic views of the Pocono Mountains and convenience of location. The protective covenants declare a minimum square footage of 2500 sq. ft. and architectural guidelines that insure that your Spread Eagle Development home is just perfect for your lifestyle.



Eaglesmere
Neighborhood Completed
Just seconds from I-80, Eaglesmere is one of the finest home locations in the Pocono Mountains. Each townhome provides its owners with its own unique exterior personality, design and style reminiscent of famous historical areas such as Georgetown or Society Hill. We have continued our commitment of excellence at Eaglesmere by using the best possible quality of materials and workmanship available, while building a maintenance-free environment for all to enjoy.